Anyone who visits Maui has probably heard of the Road to Hana. It is a top-rated, highly recommended drive for anyone who chooses Maui as their Hawaii vacation destination. With lush tropical landscapes, many hidden waterfalls along the way, and scenic roads with varying elevations, the Road to Hana offers a variety of geographical perspectives and scenery and is certainly worth the trip if you can include it on your vacation schedule.
Our Road to Hana Trip Plan ("plan" is loosely used here. LOL.)
I don't think creating a route for your Road To Hana trip requires a lot of planning but since it can take a full day out of your vacation, it might be a good idea to have a loose plan of the places you want to stop by en route and how much time you want to commit to the drive – depending on where you're driving from, just the drive alone can take anywhere from 2 to 3 and a half hours. In addition, most tour sites and travel blogs recommend blocking off anywhere from eight hours to a few days for the entire trip. It's good to keep in mind that although this is a highly trafficked route, it's still fairly rural and you might not want to drive on unfamiliar narrow, sometimes one-lane roads at night or during a rainstorm, for example.
For our trip to Maui, the only time we had to squeeze in a Road to Hana drive was on our last day – and, quite frankly, we were willing to jam it into our plans to make it work. In our situation, although we decided to do this as a mini day trip – with the intent to make it back in time to catch our return flight to Honolulu (HNL) in the evening – we were flying Southwest with flexible cancellation policies and we were only heading back to a neighbor island. With that kind of flexibility, we were prepared to take advantage of the flexible cancellation policy and either take a later flight or find a place to stay overnight. Overall, while I wouldn't recommend doing the Road to Hana drive as we did, I still think we picked up a few tips worth sharing, including things you can expect on your drive as well as things we might do differently next time.
Okay, first off, we actually decided to do the Reverse-Road-To-Hana loop instead of the regular Road-to-Hana drive. We picked it for several reasons:
1. We wanted to avoid any heavy traffic going into Hana as much as possible.
2. We thought it would be fun to experience new scenery the entire drive. Since the regular Road to Hana route takes the Northern route both to-and-from Hana, we hoped that by doing a full-circle Reverse Road loop to Hana Drive, we could check out more of the island.  We heard the landscape we really different and wanted to see the beautiful south side of the island too!
3. We like doing these kinds of off-the-beaten-path trips. Even on the mainland, we would sometimes opt for the rural route or scenic route rather than the main highway just because it was fun.
4. We figured if we didn't like it, we could always do the regular Road to Hana route next time.
So now, are you ready? First things first –
If you're trying to do the full route before catching a flight…Leave. Really. Early. 🙂
Our Starting Point: Maui Beach Hotel
Since we had a flight to catch in the evening, we planned to leave early so we could do the whole trip within a semi-comfortable time frame.  During our stay in Maui, we were at the Maui Beach Hotel in Kahului with our son's soccer team. It's supposed to be a 3-star hotel, but looking back, it's more like a 2-star hotel or a decent motel – it just happened to be right on the beach and has a great location in Kahului. It was all right, but our bed sank so much that if two people were lying on it, you'd both end up sort of rolling toward the center. LOL. On the plus side, they had pay washers and dryers on site which made it so convenient for washing stinky soccer uniforms! Anyway, it worked because our whole team could stay together during the tournament and that was our starting point for this drive. Now, as those with small children know, leaving early is always THE plan but with (four) kids, there's almost always a little blip in the schedule.  For example, we were targeting to leave our hotel by 7 AM…aaand here is a picture of our two youngest children at 7:03 AM.  We just let them be since we were hurrying to get ready ourselves.
Needless to say, we ended up running a little late.  But, we still left before 8 AM and thought we had all the time in the world. Sort of. And, to put everything in perspective, our flight leaves at 6:45 PM that night. (Yeah, we're already pushing it. LOL.)
7:52 AM: We finally say "Bye Maui Beach Hotel" and off we go. First stop, here we come!
First Stop: Breakfast
8:00 AM: McDonald's. I know, I know, but hey, we were running late and needed fast food for six people. Plus, do you want to argue with your 5-year-old before you go on a 5-8 hour+ car ride??! Honestly, we still thought we had plenty of time but not a lot of food places were open at that time.
Second Stop: Krispy Kreme
8:24 AM: There is no Krispy Kreme donut shop on Oahu so we were hitting that spot almost daily throughout our Maui trip. At the kids' insistence – they were so convincing, asking us for road trip snacks! —  we decided to stop by Krispy Kreme one. more. time.  Priorities, my friends, priorities…????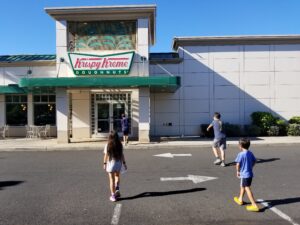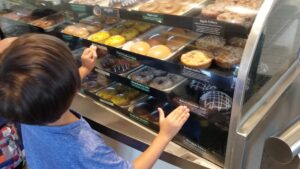 It took us about 10 minutes to get our donuts and start moving again.
Since we were in a bit of a time crunch and wanted to get the most out of the drive, we decided to find an app with self-drive audio tours. We chose the Shaka Guide self-guided audio tour for our trip. At the time, it was about $14.99 plus tax and, while we were a bit worried that it was going to be a waste of money, we actually ended up enjoying it. A lot. And yes, we did search, find, and upload the program while driving out that morning. He.He.He.
Side Stop: Cooler Drop-Off
So, unfortunately, we had a small hiccup in our schedule at this point in time. Since we were the last ones to leave the hotel, we offered to drop off a cooler our team borrowed for the soccer tournament. It took a little longer to meet up with the owners of said cooler so we were set back about another 30 minutes. It's okay, it's okay. Plus, we reasoned we still had time and we could always go part way and turn back around if we were cutting it too close. (Okay, we totally said that to each other but had no intentions of turning around. Ha.)
Off We Go: Driving the Road to Hana – Highway 37 – But Reverse…
9:18 AM: With the cooler returned and half the donuts already eaten, we start going down Highway 37, making a brief stop at Kula Country Farm to reset our map and start our audio tour program.
9:26 AM: There are two chickens crossing the road, so we wait for them to cross. This took a little longer than we expected so we got about 20 pictures of chickens crossing the road. Unfortunately, we never found out why the chickens crossed the road! Oh well.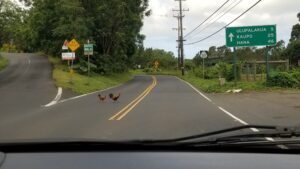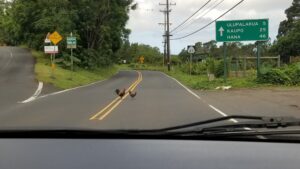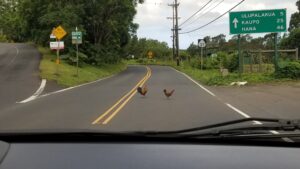 After about 45 min of driving, it becomes clear that we have entered the "reverse-road-to-Hana" drive. It gets curvy, like, really curvy, and hilly – you're not only feeling the side-to-side curves but the up-and-down hills too. If you drive over 35 MPH, it'll sometimes feel like you're driving on a mild roller coaster. If you even have a slight chance of getting car/motion sick, we strongly recommend either taking the regular Road to Hana or taking some motion sickness medicine. Also, you'll need to get your medicine in advance prior to starting this trek, by the way. By the time we were on this portion of the road, we had long past Target or any store that might have Dramamine. To give you an idea of the road we were on, even when driving, I felt a little car sick – it was weird. We used Dramamine and/or those wrist bracelets that use pressure points to help with motion sickness. Both seemed to have done the trick for us.
Go check out this little clip of YouTube video to see how the drive might feel in some sections:
https://youtube.com/clip/UgkxGLlnc0eneyXedG9K8N8FrwtddoDw_vtf
Once you've managed any motion sickness your group may feel, it's time to get your cameras out because the scenery is absolutely stunning.  With Maui's many eco/micro-ecosystems, you go through a variety of different landscapes in a short period of time. You'll have grassy fields, forest to desert, mountains to gulches, and it seems like every 15-20 minutes, the scenery keeps changing.  It's really breathtaking.
Third Stop: Manawainui Gulch
10:24 AM: We finally get to our first real full stop at Manawainui Gulch.  Wow, what a view!  A view like this is exclusive to the reverse drive to Hana, the traditional Road to Hana is much more lush and green due to the rainfall on that side of the island; the dramatic, rugged views like these are definitely a perk of driving on this side of the island and I'm already glad we decided to explore this area too.
At this point, you can still easily drive to this view and turn back because the roads are still paved and marked – we did see some vehicles do just that.
11:03 AM: By now, the regular "highway" road is no more. It's not dirt (yet) but, let's put it this way, the painted lines are gone and the road starts to narrow a bit. If you get this far, you can say that you're venturing into the explorer's territory 🙂
*It's important to note that not all cars can continue on this path. Most Hawaii guides recommend 4-wheel drive vehicles and it should be disclosed that some car rental policies will specifically state that you shouldn't use their vehicles for this drive. We had a minivan and it worked but it did get bumpy – we drove carefully. Also, the weather was beautifully perfect; I can honestly say that some parts of the reverse Road to Hana may not have been travelable if it was raining (specifically with our vehicle).
Fourth Stop: Kaupo Store
11:14 AM: By now, we see a few cars, but not a lot. There aren't a lot of drivers that use this road and there definitely aren't many amenities along the way from this side of the island. In fact, it's rural enough that I wonder how often mail gets delivered here (or Amazon) – there are no convenience stores, no public restrooms, no grocery stores, etc. Just you, nature, an occasional house, and the road. The funny thing is, just when you're wondering if you need to take a break (or the kids need to use the bathroom), Kaupo Store appears. It's cute and touristy despite being kind of in the middle of nowhere; the owners sell some snacks and cold drinks, they have a little area for people to sit and eat, and have various fun souvenirs laid out for purchase. AND, most importantly, there is a restroom! Please note, it's not a public bathroom and they are providing a service so be a good sport and buy something, give them a tip, and help them continue providing this little peaceful retreat in the middle of this long drive (because, seriously, there isn't much else out there in terms of food and facilities).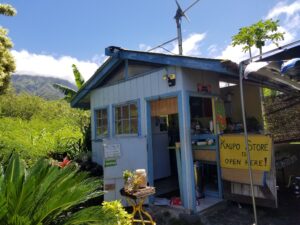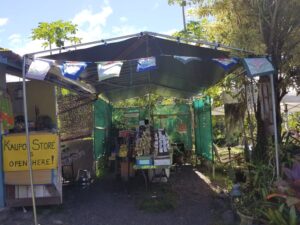 This isn't your modern, fancy bathroom but, hey, it works. Rustic. I think that's what I'd called it ????.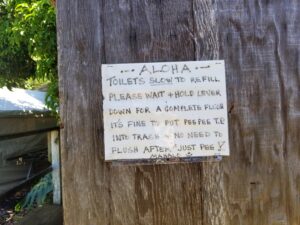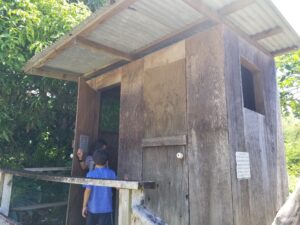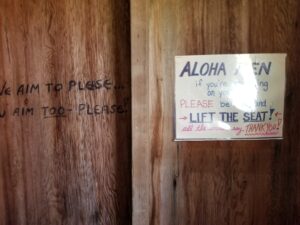 Me taking a picture of my son (on the right) from inside the bathroom. LOL.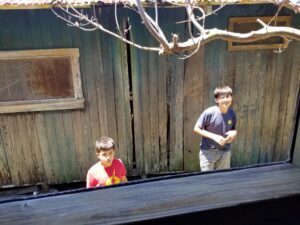 11:29 AM: After a restroom break, we purchase some drinks and snacks and hit the road again. Shortly after this, we have now entered the territory of the unpaved road. While there are some sections here and there with some sort of paving – or maybe it was originally paved? – most of the road is now officially a dirt road.
Drive-By: Huialoha Church
11:33 AM: Within 5 minutes of leaving Kaupo Store, a dirt road branches off toward Huialoha Church.  It's a historic church completed in 1859 by hand using coral from the ocean turned into mortar. Rocks were hauled to the church site and put together to make the walls. A lot of effort went into building this church and although we wanted to check it out, there was a sign saying it was for 4-wheel drive vehicles only.  Since we were also running a little late from our initial plan and still had a ways to go, we chose to move along. The other cars on the road have become few and far between but we did see a car here and there so be prepared to pull off to the side of the road as needed if you're planning to stop and take pictures or if you need to let other cars pass by. The views are absolutely gorgeous so you may be stopping a lot.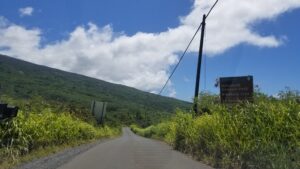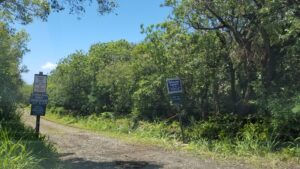 11:36 AM: Our daughter wanted to take a picture of…something(?), so we stopped so she could get her shot. It turned out she wanted to use my camera to capture a dramatic mountain view❤️.
Fifth Stop: Haleakala National Park, Kipahulu
12:13 PM: About 30 min later, we came across the Haleakala National Park Kipahulu area.  There is a famous pool and a waterfall here with some hiking paths. It looked like a lot of fun, especially if you have time and are dressed for hiking. If we stayed overnight in Hana (or at least stayed in Maui for an extra night), I think we would have stopped here; but. we had a flight to catch so time to keep moving.  If you need a restroom, there is one available here.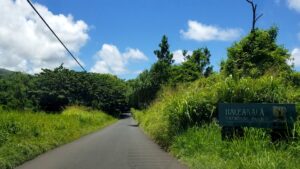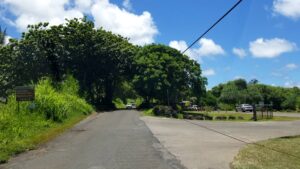 Sixth Stop: FOOD! – Braddah Hutts BBQ Grill
We made it to Hana! At this point we were pretty hungry, so we decided to take a break, enjoy the scenery, and grab some food. Shortly after entering Hana proper, we saw a patch of food trucks and vendors. We drove through the main part of the town before deciding to double back and go to the BBQ food truck closer to the entrance of Hana Town. Braddah Hutts BBQ Grill seemed to have the most options for our family (aka the picky 5-year-old) and we were beginning to get a little antsy about time. All in all, the food was…okay. Unfortunately for us, it was still peak lunch time so the food took quite a while to come out too. Normally, this wouldn't have been a big deal, but we were pinched for time and there was no "fast food" in Hana. I think any food option at this point would have taken a little longer than we wanted. Oh well. Now, our departing flight is less than 6 hours away!
1:11 PM: The line was a little long so we finally got to order. (You can see in the picture that people are just kind of waiting and waiting.) By the time we got up to the front, quite a few options were no longer available. It wasn't a weekend, but this week had the Independence Day holiday and it's summertime so maybe this is just how it is?! Either way, we needed food and it was there – this truck is supposed to have quite a few raving reviews too! The food was fine but I think we'll try another truck next time we're in Hana.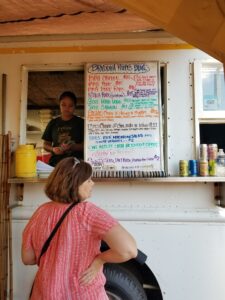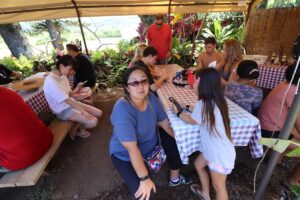 Seventh Stop: Hana Town
2:20 PM: Okay, so it felt long at the time, but a little over an hour to feed all six of us wasn't too bad! I just wished we could have explored somewhere nearby while we waited for our food but it was too far from anything touristy or beachy. Oh well, time to hit the road again. Unfortunately, since we backtracked to get to this food truck, we have to go back through Hana again. This is also the main street for the regular Road to Hana drive, but for us, this is our first time exploring Hana because we went on the reverse drive.
2:28 PM: Restroom stop at Hana Ball Park. It was just a small local park in the neighborhood but very much appreciated for our quick bathroom break!
Eighth Stop: Kaihalulu Beach
2:30 PM: Okay, even though we are a little nervous about time, we're literally at Kaihalulu Beach – Maui's red sand beach – so we take a quick stop to see how far we'd have to walk to get there. We asked some other visitors coming back and unfortunately, it'll take a little too long (even a 10-minute walk takes longer when you have young children and/or a big family and we have both! LOL.) Bummer. So, for us, not this time. If you're not in a rush, we recommend checking it out. It's supposed to be quite striking! Okay, our flight is in four hours. Moving on. (At this point Faith is nervously laughing because her family also likes to cram a lot to see on their trips but they always have everything all detailed out waaaay in advance. The only reason she's not as anxious as she could have been is because, after being married to me for so long, she's gotten used to my travel style! Haha.)
A note about our Shaka Guide (our audio tour): Throughout the whole drive we had Shaka Guide playing in the background. This self-tour is great and with the location on, it literally explains different key spots along the road as we came across them. In between fun facts and tourist information, the app also plays Hawaiian music to fill in the quiet space too. Having that audio guide really helped us focus on the drive and made it more interesting for everyone. Faith was happy she didn't have to Wikipedia all the historic sites as we drove! LOL.
As we continue on the regular Road To/From Hana, it's very obvious that the scenery on the North-East side of Maui is drastically different from what we experienced this morning. The regular Road To Hana is mostly filled with lush, tropical forest-type vegetation, tons of flowers spilling onto the side of the road, and even some fruit trees! There is definitely a lot more rain on this side of the island – we were constantly driving under canopies of trees.
Ninth Stop: Waipanapanapa State Park – Waipanapanapa Black Sand Beach
2:40 PM: LOL. We keep fluctuating between being nervous about the time and wanting to stop and check out scenic spots. Shortly after we started driving again, the Shaka Guide GPS mentions that we are approaching an "epic spot," saying it was a "must-stop." This "must-stop" spot is Waipanapanapa State Park, featuring two water caves, a blow hole, a sea arch, and one of Maui's only black sand beaches.  With four hours until our flight leaves, I asked my wife, "Should we stop at the park?"  She responds with, "What do you think?"  Translation: "Are we gonna make it back in time to catch our flight?"  We decide that since it's one of the few places Shaka Guide mentions as a "must stop," we'll stop – and boy, are we glad we did!  While we didn't get to go all the way to the black sand beach or explore the walking paths throughout the park, it was still one of the most picturesque spots on our trip. I think next time we come back, we'll make sure to spend more time here. At the time, we could only walk around a little bit, stretch, enjoy a few of the beautiful views, take a few family pictures, and head back to the van.
**The area specifically said no drones, so I kept my drone in the trunk.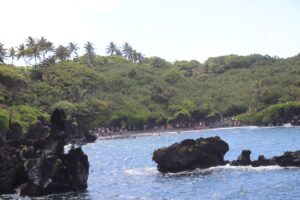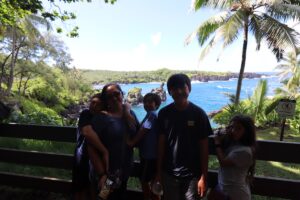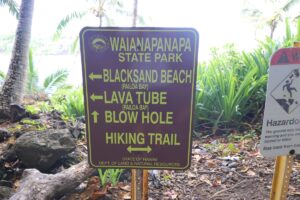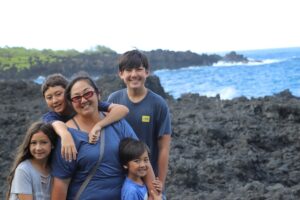 3:10 PM: Back in the car, we are seriously heading to the airport. On our drive, we saw quite a few pretty waterfalls along the way. With our time crunch, it seemed like it would take too much time to access them so we took some drive-by pictures and kept driving.
Drive-By: Hanawai Falls
3:40 PM: One of the waterfalls we passed by was Hanawai Falls. Since we could see it from the road, we just did a quick drive-by photo.
Tenth Stop: Puua Kaa Falls
3:49 PM: Haha. I know we're cutting it close but we see a quickly accessible waterfall and decide to make a stop if we can find a quick parking spot. Luckily, even though there were a lot of cars parked alongside the road, we found an empty spot pretty easily so out we went! We give the kids about 8-10 minutes to play around and, of course, they end up in the water. LOL. Still, it was beautiful, crowded but not too congested near the waterfall, and really peaceful so we thoroughly enjoyed our brief time there. We even got to explore a little bit and found out that past the waterfall and pool was another waterfall and drop-off once you go under the bridge we drove over – there aren't really any markers indicating the drop-off so don't let your kids sprint towards and past the bridge.
We found out later that there are actually a series of waterfalls here with both paved and nonpaved paths to explore. The name of the area is Puaa Kaa State Wayside and there is a rest stop with a few picnic tables and trash bins nearby but no portable water.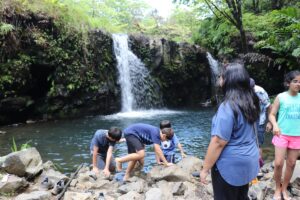 With less than 3 hours left before our flight, we had to tell the kids it was time to go ????.  Even though we weren't there for a long time, it made a big impression on our family and we would definitely budget more time when we visit again.
3:58 PM: All right! I think they did a good job moving quickly – within 10 minutes, we dipped in water, checked out two waterfalls, and were back on the highway! Whoo-hoo!????
4:02 PM: Uh-oh. Major slow-down. So, I was a little worried about congestion on the Road to/from Hana before heading out because with only one way in and out of Hana when you're stuck in traffic, you're just stuck. (I'm not even counting the reverse road out of Hana because it's difficult to traverse and not all vehicles can go that way. Plus, I would definitely not want to drive it at night.) On some level, traffic like this is common on Oahu – but at least there's the Interstate H2 and Kamehameha Highway if you need a second route in a pinch. To make matters more difficult, there are a lot of bridges and sections of the road that are one-lane only. As in one single lane which requires drivers from both directions to take turns – so tight roads, lots of tourists heading out, and locals trying to head home. Yikes!  Anyway, 4 minutes into this portion of the drive and we're hardly moving. Okay, I might be slightly panicking but hey, that's what Plan B is for! Actually, our main reasons for booking Southwest for this trip were no flight change fees and no luggage fees.
On a side note, another thing we enjoyed from the audio tour program was the extra tips Shaka Guide provided. Things like: "If you see a fast car, it's probably a local resident. So, do him a favor. Pull over and let them pass. They do this drive every day and prefer to drive faster than most visitors."  I think it's great that they provide little tips like these because it educates everyone — even other Hawaii locals like ourselves — about what is okay and not okay when driving on Maui. By the way, if you come across this on your visit to Hana, please, please, please, please follow this suggestion to let the faster car pass. We definitely noticed some drivers acting like (self-righteous) patrolling-law-enforcing citizens by blocking people from passing, however, they were the very ones causing major traffic congestion. Not allowing other cars to pass when it's safe to do so can be pretty dangerous because you'll end up with 5+ frustrated cars behind you all trying to cut around your car by crossing the opposite lane. This can get pretty dangerous on the narrow and curvy Hana road. Okay, end of traffic PSA! ????
Oh, we learned a few things while inching through traffic – want to hear some fun facts about the Road to Hana?!
Fun Fact #1: There are six hundred twenty, yep that's 620, curves that you'll drive on the road to Hana.
Fun Fact #2: On that curvy road are 59 bridges, with 46 of them being one-lane bridges.
And now you know why you should budget a generous amount of time driving to and from Hana!
Okay, but in all seriousness though – 2nd traffic PSA! – whether driving the regular or reverse path, you will most likely come across a face-off-like situation at one or some of these bridges. We recommend treating them like stop signs on both sides. If you got there first, then you should usually be able to go first.  Of course, not everyone abides by those driving courtesies (or they don't know them?) so, if that's the case, just take turns in batches. There are no police or traffic regulators guiding vehicles on these bridges and narrow roads but people drive them every day, so you'll have to just take turns and remember that letting a few cars go at a time is fine, but letting 20 cars go through, when you also have 20 cars anxiously waiting behind you, is not okay.
Anyway, these little traffic hiccups were taking longer than we expected and now our flight now leaves in less than 3 hours. Yikes!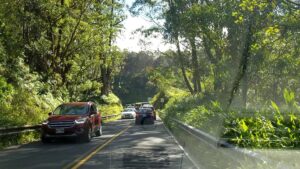 After inching along a long strip of road, we realized that it wasn't traffic from an accident or anything, it was more like people were taking turns at some of the one-lane bridges. So, while we were continuously stopping from time to time, at least traffic was moving.  And, thankfully we didn't come across any novice or nervous drivers slowing down traffic for no reason. ????
One thing good that came out of it is that with the slower drive, we could enjoy all the waterfalls we came across while driving. And since we were moving so slowly, could actually take a few pictures along the way! Okay, we were half asleep so the pictures didn't all come out straight…LOL.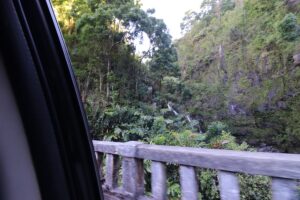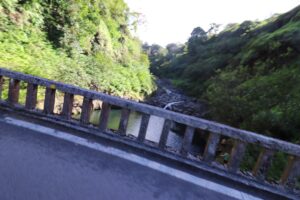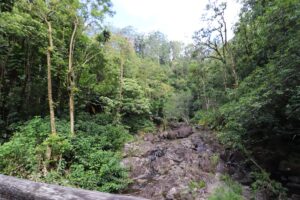 These were a few of the waterfalls along the drive. If we had ample time, I think we would have made a few stops to walk around or take some family pictures but with less than 2 hours left, we took a few drive-by pictures.
5:01 PM: We arrive at the gate of Twin Falls and contemplate going. In the end, we decide against it…well, I didn't, but my wifey said no and I chose to listen.  Mind you that we are still not out of the Road to Hana yet – we are right around the Mileage Marker 2; so we still need to travel 2 miles just to be out of this road.  I was being optimistic – I mean, assuming we have the best driving conditions and absolutely no cars in front of us on the road, we just need to get to the airport within 30 minutes. My wife reminds me that there are cars on the road and that I'm not a single twenty-something anymore since we have four children, luggage, and a car rental to return. Plus, when we get to the waterfalls, there is a hike, and that could take a little while. Hmmm. She makes so much sense so we forego the hike to the Twin Falls and keep moving to the OGG Airport.
5:33 PM: Oops, I forgot that we needed to top off the gas. Good thing Costco isn't crowded right now. My wife may or may not have given me "the look." Phew, good thing we didn't go to Twin Falls. LOL.
5:55 PM: We arrived at the Airport! Now we just need to find parking, return the rental car and check in. **We actually weren't able to use the usual rental car companies because there wasn't a minivan available – since there was a big soccer tournament, they booked out fast! We ended up using a drop-off rental service — so it was great because all we had to do was park the car in the parking lot, notify the rental company with the location and key information, and take certain pictures of the car and dashboard (per their instructions).
6:10 pm: Okay, we lucked out because it was pretty empty. Nowadays it seems like the airports are extra crowded but at the time, it wasn't too bad. Now we just have to run. My wife points out that we run a lot from place to place…hmmm. Okay, TSA, then to the gate. We're still making good time.
6:23:34 PM: And we got to the gate just in time for boarding. After a little confusion at the gate — the airline personnel didn't realize our oldest son was part of our family "group" so I think she specifically told the confused man, "No, he's with us; I birthed him." — we are walking onto the plane and everyone is in front of me. See, Honey? I told you we'd make it.
To-Do and Not-To-Do
Here are the To-Dos – It's pretty simple; despite all the rushing, we really enjoyed this drive.
DO go on the Road-to-Hana or Reverse-Road-to-Hana drive – both are beautiful.
DO give yourself more time.  Our only regret is having to rush through this experience.
(If time and budget allow) DO stay in Hana overnight so that you don't have to rush the experience. At the same time, if that's not an option, experiencing Hana in a day is a blast too!
As for the Not-To-Dos?
DON'T rush if you don't have to.
DON'T forget to bring snacks and use the bathrooms when you can.
DON'T be an obnoxious driver (local or tourist).
We hope you enjoy your Road to Hana drive and please let us know about any other places we should stop by next time we make the trip! Thanks so much and enjoy your vacation! ????