The Road to Hana is a beautiful scenic drive that with approximately 64 miles along the northeastern coast of Maui, Hawaii. The journey is full of beautiful waterfalls, beaches, and rainforests. We listed the places that you'll want to stop by organized by mileage markers:
Places to Stop on the Road to Hana
Mile Marker -10: Paia Town
Paia Town (there is no such mileage marker, but it's 10 miles before entering "Road to Hana") is the first main stop and basically the gateway to the Road to Hana. This charming town of Paia is a great place to start your journey. Here, you'll find plenty of options for food. If you're looking for a quick breakfast before hitting the road, stop by the Paia Bay Coffee & Bar or the Paia Bowls food truck. If you're in the mood for some shopping, the Maui Crafts Guild or the Hemp House Maui will be good options.
Mile Marker -7: Ho'okipa Lookout
The Ho'okipa Lookout provides one of the most stunning views of the ocean on the Road to Hana. This is a popular spot for surfing, windsurfing, and kiteboarding, so if you stop by at the right time, you might even enjoy watching surfers catching some waves. If you're interested in learning more about the sport, you can visit the nearby Hawaiian Sailboarding Clinic to rent equipment or take a lesson.
Mile Marker 2: Twin Falls
Twin Falls is the first waterfall as you enter Road to Hana. It's on Wailele Farms's private property and is open to the public for free, and they accept donations.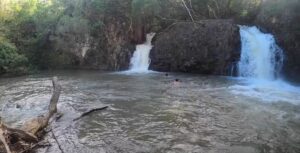 Mile Marker 9.5: Waikamoi Ridge Trail and State Park
Waikamoi Ridge Trail and State Park is a beautiful place to stretch your legs and take a hike. The park offers some fantastic hiking trails through a lush rainforest, with plenty of waterfalls and streams to admire along the way. Some of the most popular trails include the Pua'a Ka'a State Wayside Trail and the Waikamoi Ridge Trail. If you're lucky, you might even spot some of the park's native birds, such as the Hawaiian Honeycreeper or the 'Amakihi.
Mile Marker 10: The Garden of Eden Arboretum
The Garden of Eden Arboretum is a 26-acre botanical garden that showcases a variety of tropical plants and flowers, including exotic fruit trees and orchids. It is a paid arboretum and maybe because it's a paid location, it is quite well kept. It's worth it if you have time. No reservation is required, and you will have plenty of photo opportunities here.
Mile Marker 12: Kaumahina State Wayside Park
Kaumahina State Wayside Park is a great spot for a quick rest and a picnic. The park offers dramatic coastline views, and plenty of picnic tables and restrooms are available. If you're in the mood for a short hike, there's a trail that leads down to a small waterfall and swimming hole.
Mile Marker 17: Ke'anae Arboretum
The Ke'anae Arboretum has a great collection of native Hawaiian plants, with varieties of ferns and trees. If you want to do some walking, several trails are nearby to explore. There is a short loop trail for someone who wants a quick walk and get back on the road and a longer trail that leads to a scenic overlook. Great place to spot Rainbow Eucalyptus Trees, also!
Mile Marker 32: Wailua Falls
One of the most popular stops on the Road to Hana, Wailua Falls is a beautiful 80-foot waterfall that's easily accessible from the road.
Wailua Falls Wailua Falls is one of the most famous stops on the Road to Hana. With a beautiful 80-foot waterfall that is easily accessible from the road, you can see why it's so popular. There is also a small parking lot and that helps with people to stop for a short hike to the falls. You will sometimes see people swimming at the base of the falls here.
Mile Marker 42: Waianapanapa State Park
Waianapanapa State Park is a must-stop spot. Home to a beautiful black sand beach m6akes a perfect picturesque background. We were running late on a trip, but this spot was worth stopping and taking a few moments. We wish we had more time here. , as well as some stunning sea caves and lava tubes. There are several trails, a blowhole, pool caves, and dramatic scenery to explore. A short trail leads to a lookout point with sweeping views of the ocean. The black sand beach is actually more like a black pebble beach. The water is a little cooler here but still quite swimmable, and you will see people swimming in it, but generally, you'd come here for the view. There are cabin, campervan, and campsite option here (https://camping.ehawaii.gov/camping/all,details,1684.html) in case you want to stay here instead of in Hana Town. As of 2023, cabin night rental is $70 (for Hawaii resident) or $100 (for non-Hawaii resident) and this could be an economical option for someone who wants to not rush the Road to Hana adventure. This lodging option gets booked months in advance, so you'll want to plan well ahead.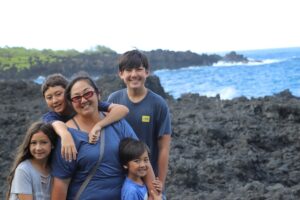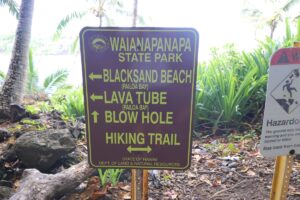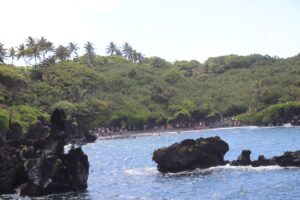 Mile Marker 45: Hana Town – The final destination of the Road to Hana
Hana Town is the final destination of the Road to Hana, and it's a charming little community. There are food and shopping options. The drive to Hana can be rushed if you are trying to accomplish it in one day, so if you have time and funds, we recommend staying overnight to enjoy the journey along the way. The price is pretty expensive as there aren't many options and it often is booked, so you'll want to plan your stay ahead. There are hotels and several vacation rental options in town.
The Road to Hana is truly a journey worth taking. The drive itself is worth it, and if you can stop to enjoy the stops along the way, it'll make it only better. We enjoyed the drive very much and next time we go to Maui, we are going to budget more time to make this drive to enjoy this nature's wonder.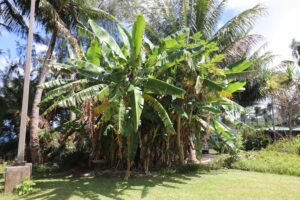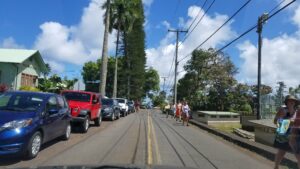 History of Hana town
Hana is a small town located on the eastern coast of Maui, Hawaii. Despite its small size, Hana has a rich and fascinating history that dates back to ancient times.
The earliest known inhabitants of the Hana area were the ancient Polynesians, who arrived on Maui around 750 AD. These early settlers lived off the land, fishing in the ocean and growing taro and other crops in the fertile valleys. Over time, the Polynesians developed a complex social and political system, with chiefs and sub-chiefs ruling over different parts of the island.
In the 1700s, Maui was conquered by the chiefdom of Hawaii, and Hana became an important center of commerce and trade. The town's natural harbor made it an ideal spot for ships to stop and restock supplies on their way between the Hawaiian islands and other parts of the Pacific.
In the 1800s, Hana became a center of the sugar industry. European and American businessmen established plantations in the area, bringing with them thousands of laborers from China, Japan, and the Philippines. These workers toiled in the sugar fields, often living in harsh conditions and facing discrimination from their employers.
Despite these hardships, Hana continued to grow and prosper. In the early 1900s, the town became an important center of the pineapple industry, with several large plantations operating in the area. Hana also became a popular tourist destination, with visitors coming to admire the town's natural beauty and learn about its rich history.
In the 1940s, Hana played an important role in World War II. The town's natural harbor was used as a base for military ships, and soldiers stationed in Hana helped to defend the Hawaiian islands from Japanese attacks.
After the war, Hana's economy began to shift away from agriculture and towards tourism. Visitors flocked to the town to enjoy its beautiful beaches, lush rainforests, and friendly locals. In the 1960s, Hana became a favorite destination of hippies and counterculture types, who were drawn to the town's laid-back vibe and natural beauty.
Despite its popularity with tourists, Hana remained a small and tight-knit community. Many of the town's residents were descendants of the original Polynesian settlers, and they worked hard to preserve their culture and traditions. Hana also became known for its strong sense of community, with residents coming together to support one another in times of need.
Today, Hana is a popular destination for travelers from all over the world. Visitors come to admire the town's natural beauty, learn about its rich history, and relax in its tranquil atmosphere. Despite its popularity, Hana remains a small and tight-knit community, with residents working hard to preserve their culture and way of life.
In recent years, Hana has faced several challenges, including an aging population and declining economic opportunities. However, the town's residents remain committed to preserving their community and ensuring that future generations can continue to enjoy all that Hana has to offer.
Restaurants and Cafes on the route
While the road to Hana in Maui is primarily known for its stunning natural beauty and scenic driving experience, there are also several restaurants and cafes along the route where you can grab a bite to eat or a refreshing drink. Here are some of the most popular options:
1. Aunty Sandy's Banana Bread: Located at little mile marker 16 – turn left onto the Keanae Road, Aunty Sandy's Banana Bread is another popular stop for delicious banana bread. The bread is made from scratch using local ingredients and is a favorite of many Road to Hana travelers.
2. Halfway to Hana: Located at mile marker 17, Halfway to Hana is a roadside stand that serves snacks, drinks, and souvenirs. The stand is famous for its banana bread, which is made fresh daily and is a popular snack for tourists and locals alike.
3. Coconut Glen's: Located at mile marker 27, Coconut Glen's is a vegan ice cream truck that serves delicious and unique flavors, such as lilikoi (passionfruit), ginger turmeric, and chocolate macadamia nut. The ice cream is made with coconut milk and is free from dairy, gluten, and soy.
4. Hana Farms: Located at mile marker 31, Hana Farms is a popular stop for breakfast, lunch, and snacks. The farm features a cafe that serves fresh coffee, smoothies, baked goods, sandwiches, and salads, as well as a farm stand that sells a variety of locally-grown produce and products.
5. Braddah Hutts BBQ Grill: Located in Hana town, Braddah Hutts BBQ Grill is a casual, outdoor eatery that specializes in barbecue dishes, such as pulled pork sandwiches, smoked ribs, and chicken teriyaki. The food is cooked on a wood-fired grill and served with homemade sauces and sides.
In addition to these options, there are also several food trucks, fruit stands, and other small eateries along the route that offer fresh and tasty treats. So, whether you're looking for a quick snack or a full meal, you're sure to find something delicious on the road to Hana.