Haleiwa Alii Beach Park
Region: North Shore
Recommended Activities: Surfing, Bodyboarding, Fishing
Parking lot: Yes
The Bus: Yes
Restroom: Yes
Lifeguard: Yes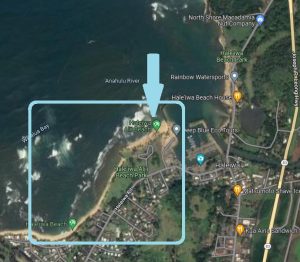 This beach is located at the end of Haleiwa town.  Instead of going East, if you start going toward West – toward Kaena Point or towards Kawaihapai Airfield, formerly known as Dillingham Airfield – you will come across this beach as you exit Haleiwa town right off Highway 83.
This 19-acre beach park expands almost a mile long.  As of this writing, I think this beach is a little underrated.  Because it is actually a pretty big beach and not so many people come, the beach It isn't overcrowded like some other popular beaches.
It may not be the best "swimming" beach as there are some sharper rocks and coral reefs, but we still squeezed in swimming here and there for fun.
The way the sand bank is structured makes you think that water will get deep pretty fast, but you can actually go out pretty far without the water getting so deep.
It has a pretty hang-loose vibe to the area.  Winter time the wave can get pretty high, which is true for pretty much all north shore beaches, so you should exercise caution.  Even summer time, you'll see some people move out a little far to catch some good waves.  There could be some strong rip currents at the breakwater.  We lost our ball, and within a couple of minutes, it was floating pretty far away out in the waters.   Despite that, we were pretty comfortable letting our kids – multiple visits at different time with their ages ranging 2~14 – play at the beach.
Turtles often make their way to Haleiwa Alii Beach, so some people even call this beach the real turtle beach of Oahu.
It's also a great spot to watch the sunset.  Honestly, there are so many great spots to watch the sunset in Oahu.  It's not uncommon to hear people clap after the sunset because they become overwhelmed with its beauty, and I head those claps in multiple places in Oahu.
We never had a problem with finding a parking spot here, which is a huge plus on Oahu.  Although, one time we had to loop around couple of time, but it was within minutes that we could find a parking.
If you are into picnics and doing some bar-be-que this would be a good place for it.
There is a bathroom, changing room, and a shower area.
Lifeguard station is always a plus.
Beach and ocean conditions should be observed with care.  Please check HIOCEANSAFETY.COM for surf and wind conditions and public safety information.  You should obey when there is a hazard condition sign.  It's so sad to watch a news report talking about a visitor family that got into an ocean accident because they didn't exercise enough caution.  Have fun! but, please be safe!
Here are some other great beaches in Oahu's north shore region.