Check out these easy and kids friendly hikes on Oahu.
When we first moved to Oahu, one of the things we had a hard time figuring out is what activities are actually kid-friendly here. My wife grew up on the island, but doing stuff as a teen is different than finding things to do with your own family and young children. For me as a new resident, Oahu was all about beautiful beaches and surfing but I don't swim well and I can't surf; instead, I learned that Oahu is a paradise for hikers as well. Thankfully, there are many well-developed trails on Oahu and a great thing about hiking is being able to take our kids outside and experience all the dramatic changes of scenery as we explore the trail! In the end, we googled hikes on Oahu like crazy, and grabbed the kids, water, sunscreen, and snacks to set out to try as many kid-friendly hikes as we could! So, here we go!
Important note: A lot of the waterways along the hiking trails on Oahu have leptospirosis, which could cause a serious bacterial infection.  You shouldn't go in the water with any open cuts and you shouldn't drink the water either.  There will be notices posted as the State checks on these water sources, but exercise caution.
Please note: Bug spray, sunscreen, water, and snacks(<<our kids told us to write the last one) are a must on these hikes.
For additional information, the Department of Land and Natural Resources has put together a great trail information site: https://hawaiitrails.hawaii.gov/trails/#/
Distance: 3.2 km / 2.0 miles roundtrip
Time: 1.5 hours – I would give a family with elementary-aged kids or younger between 2 – 2.5 hours (our kids stopped a lot because they were hot)
Elevation Gain: 154 m / 505 ft
Conditions: Hot and dry slopes
Other: Hike and parking are free. There are no bathrooms or water fountains on-site, the closest bathrooms are at Makapuu Beach via car.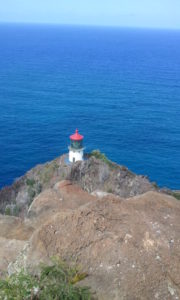 We chose this first because it is one of few stroller-friendly hikes on the island —  it's pretty much doable for anyone, is great for big groups, and you'll be nearby a few beaches as well. This is one of the easiest hikes in Oahu, however, keep in mind that there is no tree coverage so the trail has sun exposure the entire way.  Because of that, I would avoid midday as it can get pretty hot.  Sunscreen is a must — I would strongly suggest wearing a hat — and you should have drinking water handy.
The parking lot is decent, but it is a popular destination so you'll often find the lot is full by 10 AM. If that's the case, just follow everyone and park along the side of the entrance driveway or even out by the main road along the highway.  Also, it's a relatively quick hike so people are continuously coming and going; often, if you wait for a little bit, a spot will open up so overall, it shouldn't be too hard to find someplace to park. The trailhead is easy to find and there is a paved road all the way to the top.
Bonsu: By the trailhead, the pathway splits between a paved trail and a rocky, unpaved path.  If you follow the rocky path, it will lead toward a secluded beach: Alan Davis Beach through the Kaiwi Shoreline Trail.  Actually, if you go up Makapuu LighthouseTrail first, you'll see the path to Alan Davis Beach as you walk the first leg of the trail. Unfortunately, the Kaiwi Shoreline Trail is not stroller friendly, but it's entirely possible to hike up the Makapuu Trail and also hit a beach during the same visit.
One of the most awesome things about this trail is that the scenery continuously changes as you go up in elevation.  The hike starts from the opposite side of the ocean and about ⅓ of the way, you enter the ocean side.  You can admire the beautiful ocean scenery all along the way, and if you are lucky in the winter and early spring months, you might even spot a whale breaching in the water. Once you get to the top you will see the stunning mountain ranges of the east side of Oahu, with the Makapuu Lighthouse a little below eye level, and often you'll spot quite a few people paragliding from a nearby mountain ridge.
For more information on Makapu'u Point Lighthouse Trail, click here.
2. Manoa Falls Hike
Distance: 2.7 km / 1.6 miles roundtrip
Time: 1-1.5 hours
Elevation Gain: 193 m / 633 ft
Conditions: Usually wet and muddy
Other: Hike is free, parking fee is $5. There's a building near the parking lot that has a restaurant (temporarily closed), snack shop, and restrooms.
Manoa Falls is probably one of the most famous waterfall hikes on Oahu, in addition to the Waimea Falls hike. It's probably one of the closest hikes from Honolulu, which makes it one of the more popular and touristy destinations.  Manoa is known to be pretty rainy, so even if it's clear blue skies and sunny, the hike is often muddy.  Manoa is gorgeously green and tropical and you can practically expect to see a rainbow with every visit, but that's because it usually rains a little bit every day. When it rains heavily in Manoa, it can get a little flooded, so I'd avoid the Manoa Falls trail when it's raining hard and maybe even the day.
Parking cost $5 but it's also possible to park outside the lot, on the street if you are willing to walk another 10 min or so to the trailhead. The area is primarily residential and, I'd say it's pretty safe but we still recommend taking the usual safety precautions for your vehicle.
Because the Manoa Falls hike is almost always wet and muddy, I would recommend bringing a plastic bag for muddy shoes and/or bring extra footwear. Also, there are a lot of mosquitos so bring bug repellent and, if you get bitten a lot, you might want to consider a long-sleeved shirt and pants. The area is typically warm and humid but even on this shorter hike, the scenery changes and you'll walk through a bamboo forest before you get to the beautiful 50ft waterfall at the end!
The last time we visited, the route going to the upper section of the waterfall was closed – it's subject to seasonal closure due to weather conditions.  The trail leading up to view the waterfall, however, is generally open all year long.
About 5-7 minutes from the Manoa Falls Hike on the other side of Manoa, is Manoa Marketplace, a mix of chain and mom & pop stores, eateries, and businesses; it's a great place to grab a bite to eat before you leave the area.
3. Lanikai Pillbox hike (aka Ka'iwa Ridge Trail)
Distance: 2.7 km / 1.6 miles roundtrip
Time: 1.5 hours
Elevation Gain: 191 m / 627 ft
Conditions: Dry, sunny, loose sandy soil, with some steep areas. Please note, that there are no railings (see more about that below)
Other: The closest bathrooms are at Kailua Beach Park (FYI, the nearby Lanikai Beach also has no restrooms), there is only street parking so you'll need to be aware of "No Parking" signs, and please respect the residents in the area. There is a high chance you'll get towed if you park illegally.
Lanikai has a fabulous beach and is frequently voted as one of the top beaches of the year, however, if you turn around and head the other way, you'll find the Lanikai Pillbox hike, an amazing trail with the most gorgeous views of Lanikai Beach and the surrounding areas!
Did I mention it has some of the best views of Lanikai and Kailua?
This one can be a little difficult for younger children so if you have a back carrier, I would recommend bringing it for this hike. My wife and I had to carry our 2-year-old with our Ergo carrier, but our athletic 4-year-old was able to do the hike without any issues.  There are some spots where it's a little slippery from loose dirt and there are also some steep areas (my wife ended up just scooting on her butt in some spots. LOL.) so, if your child isn't agile, you might want to wait until they're about grade-school age.  It's about a 30-min hike to the pillboxes and another 10 min to the top. There's no shade so I would make sure you have hats, sunscreen, sunglasses, and water.☀️
About the lack of railings, I would just be cautious. There's a little outcropping along the trail that can make parents nervous but you don't have to pass that close to the rail-less edge to complete the trail. A lot of people do stop at the ledge though because the view is beautiful and, of course, our kids just had to sit right. at. the. edge. As for the pillboxes, there's solid ground surrounding the area with worn-out walking paths around each pillbox. It's hard to see because most of the pictures look dramatic — case in point, in the picture above, our kids look like they're dangling their feet with nothing below them but there's actually a dirt path. Anyway, when you're there, it's not as scary as it looks in pictures!
4. Diamond Head Summit Hike – Leahi Hike
Distance: 2.9 km / 1.8 miles roundtrip
Time: 1.5 – 2 hours
Elevation Gain: 138 m / 453 ft
Conditions: Mostly open and exposed with a little shade, there are a lot of stairs
Other: New as of 2022/05/12, there's a $5 per person fee for out-of-state visitors (Children under 3 are free). Also, all out-of-state visitors will need to book a reservation in advance (link below). There is also a vehicle fee of $10. *Hawaii residents are free but you will need a Hawaii state ID or DL as proof.
Important: You need an advanced reservation – It's easy to do and most of the time slots are open, but it is now a requirement. You can make a reservation here: https://gostateparks.hawaii.gov/diamondhead
One of the most famous volcano craters in the world offers a great hike too.  As you climb up this 300,000-year-old crater, there are multiple lookouts and amazing views that will oversee the 3,500 feet diameter crater, Waikiki, and downtown in one view.  You can also peek on the other side – the Windward side – and the mountain and ocean view combination is quite fantastic.
There's nothing too difficult about this trail.  There is a section that has pretty steep steps and my aunt (60yr) had some difficulty with them.  If your knees give you trouble climbing stairs then there is an alternate route you can take on the other side.
I couldn't find our pictures for the Diamond Head Trail while writing this post but when I find them, I'll update this page.  We even had one with a Santa Claus running up the trail the day we visited!
5. Waimea Falls Hike (Waimea Valley Trail)
Distance: 3.1 km / 1.9 miles roundtrip
Time: 50 min – 1 hr
Elevation Gain: 83 m / 272 ft
Conditions: Easy with paved walkways, some sun exposure, and shade from trees in the botanical gardens
Other: There is an entrance fee. For out-of-state visitors, the fees are as follows: Adult $25, Seniors 62+ $16, Students $16, Child 4-12 $12, and a group of 10 or more adults $16 per person. There is also a shuttle available for $10 per person.
Waimea Falls hike is located in Waimea Valley Botanical Garden (part of the reason for the entrance fee). You can practically make this visit into a day trip with a botanical tour, history walk, and Hawaiian games site, as well as the famous Waimea Falls.  Waimea Valley Trail is well maintained, paved, and stroller friendly; there is an incline going up to the falls, but even with four kids in tow, it wasn't really a problem.
The main path takes you through part of the botanical garden with Waimea Falls at the end. The natural falls-fed pool is usually available for swimming but it depends on the daily weather conditions. According to the Waimea Valley site, the lifeguards decide on the swimming conditions by 9 AM daily so call after 9 AM to find out if you can swim that day. Their number is 808-638-7766.
As a heads up, you'll need to put on a lifejacket to swim. The lifejackets are available on site. The whole process kind of reminds me of a water park, with changing rooms, rows of lifejackets, and lifeguards manning access to the pool. The last time we went, it was for a cub scout project in the gardens; their reward was swimming at the falls after their service project was completed. While some of us were relieved lifejackets were required, others were turned off by having to put on a lifejacket. It seemed artificial, but if you want to swim, that's the rule.  Either way, it was a great way for the kids to cool down after working in the gardens.
Once you're out of Waimea Falls and the botanical gardens, if you head toward the other side of the highway you'll see the famous North Shore Waimea Bay Beach. We recommend checking it out after your visit to the falls. (If you're visiting Hawaii in the winter, please check ocean conditions before you go to any beach on the North Shore. The winter waves are notoriously dangerous unless you are a strong surfer.)
By the way, our cub scout service project was to clean up the overgrown vegetation along the pathways, so we hope we made your visit a little more comfortable. You are welcome????. Hehe.
6. Old Pali Hike
Distance: 4.0 km / 2.5 miles roundtrip
Time: 2.5 hs – I would give a family with elementary-aged kids or younger between 3.5 – 4 hrs
Elevation Gain: 544 m / 1785 ft
Conditions: Maybe (extremely) windy, damp, mostly paved. There are no bathrooms at Pali Lookout.
Other: Parking fee for out-of-state visitors $3
Pali Lookout is one of my favorite places on the island.  I really like the wind and it has one of the best views of the Windward side of the island!
You can actually access the trail from Ko'olau Golf Course but it's longer (about 5 km and will take 3+ hours to complete.) We've never gone that route so this info is for trail access from Pali Lookout.  From the lookout, you'll see the trail on the right. The trail is technically closed, but it's easily accessible and you will often see a steady stream of people going in and out. The trail used to be a road that people took to go to the other side of the island, so paved, and it's possible to use a stroller for a big chunk of the way. In fact, that's the reason why we checked it out in the first place – we were hunting for stroller-friendly hikes. When we took our stroller, we ended up turning around when we came across a big boulder in the middle of the path. It was easy to get past on foot, but not with our umbrella stroller. It was a bit bumpy too, but not bad. Also, you have to remember that going back is uphill. Unlike many other trails, since you are descending the mountain at the beginning, the view is nice but it doesn't get better until you go back up the mountain further along the trail.
Even if it doesn't rain, if it's windy you still might get damp from the mist in the air. If you go on the entire trail, I recommend bringing a thin windbreaker, mosquito repellent, and water.
7. Kaena Point (From the North Shore / Mokuleia-side)
Distance: 8.0 km / 5 miles roundtrip
Time: 2 hrs – I would give a family with elementary-aged kids or younger between 3.5 – 4 hrs
Elevation Gain: None – You are basically walking along the coastal line so there are little hills up and downs, but nothing dramatic.
Conditions: sunny, hot, dry
Other: There are public bathrooms on the beach before the trailhead.
At the northwest corner of Oahu, there's a beautiful hike that can take you all the way to a nesting area and sanctuary for native birds. There's no shade on this hike and because it gets quite hot, many people recommend going early in the morning. (We tried multiple times and failed miserably.)  Along the way, there are lots of little beaches you can enjoy too! With small children, I would recommend going part of the way to one of the little beaches rather than trying to take them on the entire hike. It's hot and sunny the entire way (back and forth) and even with multiple applications of sunscreen, we all got a little sunburned the last time we went. This is definitely a trail where you want to reapply sunscreen and bring water. (If you have a water bladder, this might be a good one to have one of those. If not, it's okay too.)
It's a pretty wide trail, so it works well for a big group. When our kids were in cub scouts, this was one of the trails we took with a big group of elementary school-aged scouts.
8. Hoomaluhia Botanical Garden
Distance: You make your own.
Time: Opens from 9 AM – 4 PM (Don't get locked in – read below.)
Elevation Gain: It depends where you go but it's mostly mild.
Conditions: Sunny with lots of shade from mature trees and the flora and fauna of the botanical gardens.
Other: There are multiple parking lots and restrooms – the main office area has restrooms and there are restrooms toward the water reservoir as well. The camping areas also have restrooms.
This isn't really a hiking trail but it's definitely worth mentioning.  I guess you could consider the whole botanical garden as a series of hikes.
As the name suggests, this is a beautiful botanical garden in Kaneohe on the Windward (eastern) side of Oahu. There are lots of winding pathways with different kinds of plants and flowers woven throughout. Because even when it's sunny, it's damp in the shade, stroller wheels can get stuck in some areas but we've often brought one anyway. In fact, after the kids graduated from strollers, we'd still bring a wagon with us. Our favorite part of this botanical garden is the catch-and-release fishing at a very large water reservoir in the middle of the gardens. Unfortunately, as of June 1, 2022, it's still closed due to Covid. That's according to their website, but if you're heading over there, it wouldn't hurt to call and check: 808-233-7323.  There's a lot of colorful tilapia and midas cichlid (I got that from their site, I thought it was koi! LOL) that you can see from the edge of the reservoir and you may still be able to feed stale bread to the fish, just check before you go. If you can do catch-and-release, they provide the poles, but you'll need to bring your own stale bread as bait. Also, please note, that this is not a swimming site.
As mentioned above, they are strict on their hours. The first time we went there we left a few minutes after 4 PM (we got delayed taking kids to the bathroom). With the drive down from the parking lot, we reached the gate closer to 10 minutes after 4 PM and it was already locked and we were locked in! In the end, we had to call the security guard down to let us out; he was pretty nice about considering he had other areas to lockdown. Anyway, it all worked out and Hoomaluahia became one of our favorite places to go when we wanted to do something fun and free with the kids.
Ok, so our final suggestion is actually quite debatable, even within our own family. We came to the conclusion that how "easy" it really depends on each family.  You'll see what we mean once you read below.
9. Koko Crater Tramway (Right across Koko Head)
Distance: 2.6 km / 1.6 miles roundtrip
Time: 30 min – 1.5 hrs – I would give a family with preschool children and younger 2 hrs+
Elevation gain: 270 m / 886 ft
Conditions: sunny, hot, no shade, short but steep
Other: Bathrooms located at Koko Head District Park. We parked in the parking lot for the hike and then walked back toward the park to use the restroom.
This trail is typically not mentioned as an easy and family/kids-friendly hike. But I thought it would be worth mentioning for the daring few out there.
Basically, this "hike" is a steep climb of over 1000 "stairs" made of old railroad tracks — that's kind of like stair-climbing a 100-story building! Even so, it's definitely doable for a young child. In fact, our daughter, almost 5 at the time, climbed up without an issue and then started to do burpees with a few random college-aged guys when she got to the top! It was too difficult for the 2-year-old. Initially, my wife tried to carry him with our Ergo but was worried she'd topple over (her words) so I ended up switching with her and carrying him most of the way. Our 6 and 8-year-old boys were fine, except our 8-year-old discovered that he was (is) a little afraid of heights. More so, he had a hard time going down the tracks; he was fine going up. As a side note, there are some spots where the gaps between tracks are a little wide-spaced however, there is an option to go around / partially under them if you are afraid of heights or afraid of slipping. (It was quite common to take the side route and I think people even use it to get around slower hikers.)
We went with some of my wife's family — brother, cousin, and uncle — and it was fun. We all hiked at our own pace but waited for each other at the top. My wife's uncle (58yr) said it was a good experience and he would never do it again; I think it was a little hard on his knees. For the rest of us, it was an intense but very doable hike and was worth it for the views.  We didn't go for the sunrise, but we've heard it's incredible and highly recommended (maybe not for those with small children since you'll be climbing in the dark.) For those who like to exercise with stair-steppers, this is a must!
So that's it for now, but we'll keep adding hikes as we think of more. If you do any of these hikes, please let us know what you think!