As we visited different sites around Oahu, we often came across surprising little hidden gems. These are NOT things that you want it to make it a destination, but if you happen to be there, it will add a little more to your visit. This is a running list, so check back and if you have a little gem that you'd like to share, please leave it in the comments below.
Aloha Tower
Next to the Aloha Tower is a small pier area. We were just visiting the Aloha Tower Market place one day and thought we'd just walk around the pier instead of just checking out the stores only. As we walking around, we happened to spot some fish right off the pier. So, we were just taking turns spotting fish. To our surprise, there were coral reefs that were formed really close to the pier and you could actually see a log of fish and coral reefs really clearly. Usually, if you want to see this much variety of fish and coral reefs, you often have to jump in the water at a well-known spot. But, here they were in the comfort of air 🙂 (swimming isn't my favorite activity. I go in the water because my kids like to. I often come up with excuses not to go in the water and make my wife go in the water with the kids.)
Honbushin International Center
Here is a little hidden gem in the middle of the island.  Honbushin is a newer religion from Japan and has an Honbushin Internation Center in Mililani.  They have a few community events a year and also hold regular Bazaars.  They have fresh produce and they also have homegrown coffee and Tumeric.  We happen to come across this facility and land through a friend, it's really a nice hidden gem of Oahu.  It is a religious and residential area, so visiting should be limited to events only.
"Private Pool" next to the Halona Blow Hole
This is not really an official spot, but 99% of the time it'll be pretty much just you and your group.  At Halona Blowhole Lookout, if you look to your left, a little far away will be Sandy Beach.  But, if you look to your immediate left, there are some tide pools where you can hang out.  Please exercise extreme caution as the waves approach you.  These tide pools are generally safe, but ocean waves are something to be respected and you must always be careful.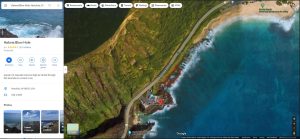 "Private Beach" next to the Halona Blow Hole
It's probably not so much of a hidden gem anymore as more and more people know about this beach cove and it often is quite busy, but nevertheless, Halona Beach Cove is another beautiful hidden gem that many people pass by without knowing about it.  One of the favorite spots for those people who know it.
Hoomaluhia Botanical Garden
Ok, ok.  This is not really a "hidden" gem, but many visitors skip this from their itinerary and I think it's worth considering.  It is a beautiful botanical garden with a man-made lake where you can catch-and-release (the program was on pause due to COVID, so please check at the time of your visit).
Kaneohe Friendship Garden
This is also referred to as Friendship Gardens Trail.  This is a spot that we accidentally came across while we were trying to find a beach and a trail one day.  We went with a 5 year old and 2 year old at the time. http://friendshipgarden.org/ It is a quick and easy loop hike.  We were happy with our little discovery that day.  It has views of Kaneohe Bay and it's a nice green trail.  Many plants were marked with names and you could tell that there was effort put in for this little section of paradise.  It's a privately maintained trail, so if you are interested in helping them out, go to their website and consider a donation.  Not that many people know about it and the trail generally isn't that busy, although we did come across 2~3 families while we were walking along the trail.  Parking can be a little tricky.  You'll have to park on a side street