When is the Best Time to Visit Hawaii?
For the best times to visit Hawaii, our picks are April, May, September, and October.  While there are many factors to consider — such as specific activities like whale watching which is primarily available during the winter months — if you want to avoid large crowds, stretch out a little on the beaches, and have the highest chance of temperate sunny skies, these four months will give you the best chance at enjoying a balance between less people-traffic and warm, sunny weather.
Of course, as you might have guessed, those months are great for the exact reason that most students and families cannot go – school is in session. Bummer, right? At least Hawaii usually has pleasant weather all year long so even if you can only come during the typical peak seasons — summer break, winter break, and spring break —  there's a good chance the weather will still be sunny and warm…at least some of the time. The downsides are those peak seasons usually come with more crowds, higher demand and pricing (aka. fewer deals), and fussy weather.
In the summer, it can get hot; not desert hot, but muggy in the high 80s and low 90s; in addition, it's also hurricane season so there may be a higher chance of heavy storms even if hurricanes typically do not end up hitting the Hawaiian Islands. In the winter, it's usually cooler, but rainier. Once we were visiting my family for the holidays and while the Weather.com app said "sunny skies" at 75 degrees every day, it was definitely not. More like was rainy and high 60s – and it was pretty much overcast our entire vacation. Oh well. At least we saw whales on the Makapu'u Lighthouse Trail.
Even if you can't come during April, May, September, or October, with a little luck, maybe you'll snag a deal in advance and the weather will be on your side – not too hot, not too cold, and not too rainy! And if all else fails, remember you're in Hawaii! If the weather is warm, most likely the rain will be warm too – in fact, we personally like going to the beach when it's raining (but NOT during thunder and lightning storms) because often the beaches are a lot less crowded, populated with just a few locals who know that swimming in the rain is okay when you're in Hawaii. After all, you're gonna get wet anyway, right?!
Also, as a rule of thumb, it's good to keep in mind that the Windward side (East to Northeast sides) tends to be rainy, wet, and lush — there's a reason Jurassic Park was filmed on the Windward side of Oahu — and the Leeward side (West to Southwest sides) tends to be drier and sunny. Hawaii even has some desert climates, so chances are good that even on a rainy day, you'll be able to find a sunny (or at least not rainy) spot somewhere on the islands.
We think these months are the best times to come to Hawaii considering the weather, affordability of hotels, and fewer crowds:
APRIL: Usually this is a great month because the temperatures are still moderate – somewhere in the 70s. Just be aware of floating holidays like Easter or school spring breaks which may hike up hotel prices and airline tickets.
MAY: Early May is probably a little better than late May if you want to avoid the high school graduation crowds but the weather is still nice and there are usually some deals on hotels and airline tickets.
SEPTEMBER: Since school has started for everyone from elementary through college, there is usually a lull in visitors; most locals, especially those with families, are still busy getting adjusted to the new school year and their kids' new school schedules so I don't think they're in a stay-cation mindset.
OCTOBER: The weather is usually quite nice and it's typically not as crowded. The only uptick in hotel and flight pricing is around Columbus Day because many schools have a Fall Break long weekend or a week off school around that time; families might do staycations or short trips during this time. In general, though it's not too crowded because people are gearing up to visit during the holidays, often beginning with Thanksgiving in late November.
If, however, these months aren't ideal for your Hawaii vacation, don't worry! We've had friends find great deals on flights in February and even November. Plus, there are so many activities that fall outside of those months that it may not make sense to travel during our "best month" picks. Okay, so now that we've pointed out our "best months," let's cover activities month-by-month to see what makes the most sense for you and your family.
January
Visiting Hawaii in January
New Year's Eve in Hawaii is kind of a big deal. Of course, people celebrate all over the world (I mean, Times Square, NYC?) but Hawaii locals can take it to a whole new level. To give you a little background, you need a permit in Hawaii to set off aerial fireworks, even the small ones. In addition, pretty much any big aerial fireworks for personal use are banned. This sort of conflicts with some of the traditions from my wife's childhood in Hawaii which was complete fireworks, sparklers, and firecrackers bedlam – she remembers fireworks going off all over the place and most families also blew strands of Chinese red firecrackers at the stroke of midnight too. Over the past 10-15 years there have been increasingly stricter regulations regarding fireworks, sparklers, and firecrackers so nowadays it seems like locals like to alternate between rebellious, blatantly illegal fireworks displays and relatively mellow New Year's Eve celebrations. I'm not sure what makes various residents decide to either follow or go against the rules any given year, but if you happen to be in Hawaii during one of the fireworks-heavy NYEs, bring some allergy meds, some sedatives for your pets, some noise-canceling headphones for the little ones, and enjoy the show (or shows, depending on where you are). It is an experience.
Anyway, locals are pretty good about keeping the fireworks to NYE so once the turn of the year passes, the holiday rush fades, visiting family and students go back to the mainland, school resumes on the islands, and overall, there are noticeably fewer people visiting during January. The weather tends to be cooler and rainier too.
My wife and I were married at a Waikiki hotel in early January. We were supposed the ceremony in the open courtyard but the weather report kept forecasting rain for the morning of our wedding. With the typical Hawaii January weather, we were prepared for this however, my grandfather-in-law kept reassuring us that it would be fine. "There's a reason why everyone loves coming to Waikiki," he said. And…he was right! Our wedding took place outside and it was a gorgeous Hawaiian morning. We did have a full lightning and thunderstorm late that night, but our wedding had perfect Hawaii weather and the next morning it was gorgeous as well!
Actually, there is a reason why Waikiki is the tourist hub of Hawaii – it could be raining in an area 10 minutes away by car, but Waikiki will be dry (maybe overcast, but without rain). Other times, it'll rain at night but be sunny by the next morning (like our wedding day). If by chance, you catch a rainy Waikiki day, very likely somewhere on the Oahu will be dry. The only times there is island-wide rain is when we're catching a downgraded hurricane or tropical storm.
If possible, when traveling to Hawaii during the winter months, stay at least a week, it'll increase the chances of having a few sunny days despite the rainy season. If you are planning a three to four-day trip, be prepared to enjoy Hawaii with a possibility of on-and-off rain for the duration of your stay. You could also consider staying on the west side of the island — either Kapolei or the Ko'Olina Resorts area – because the chances of dry and sunny weather are greater on the leeward side of the island.
January Highlights
January is a great time to go whale watching – whale watching season is from late November to early April with the main season running from December to February. The whales migrate south so if you're planning to visit Oahu, December and January are good months for whale watching but by the end of January through early March Maui will be better.
During January, the usually calm waters of North Shore, Oahu can start churning out 10-30+ foot monster waves. While it's not a good time for regular swimmers, it's perfect for experienced surfers. In fact, there's a surfing tournament — the Eddie Aikau Big Wave Invitational – that's only held if waves on the North Shore are consistently 20+ feet. We're not surfers, but it is fun to watch the daily surf reports in anticipation of a possible Eddie surfing event. Because it's completely dependent on specific conditions many pro-surfers on are high alert during the month of January and it's often called on or off with a 1-2 day notice.
February
Visiting Hawaii in February
If you are ok with cooler daily temperatures — high 60s in the evenings and mid-70s during the day — and cooler water on the beaches, February is a pretty low-key month to visit the Hawaiian Islands. Tourist activity is often one the lowest of the year during this short month and the islands are often a bit calmer – it's like everyone is recouping from the holidays before the spring break season begins. It's also a time when a few annual local events — like the Great Aloha Run/Walk — take place. During February, our family is mostly busy with cub scouts events or the President's Day soccer tournament for our kids. The weather is usually transitioning out of the rainy season so sometimes it's sunny and gorgeous and on other days, it's soggy and rainy. That begin said, since rainier weather is still common in February, you might want to take that into consideration when planning your trip.
February Highlights
Whale-watching is often at its peak on Maui; it's hit or miss on Oahu (but still possible); from March to April, the humpback whales will be heading back north for the summer.
Strong waves may still be hitting the north shores of the islands, so for most people, the beaches on the south sides are better for swimming. If you want to watch more experienced surfers hitting 15-20 ft. waves, head to the North Shore of Oahu. Don't be surprised if the roads are congested from Haleiwa through Kahuku as both tourists and locals park along the beaches or pull up their folding chairs just to watch the giant swells and the surfers who ride them.
March
Visiting Hawaii in March
In March the temperatures will gradually get warmer with a little bit of residual rain popping up once in a while. Usually, it's sunny and warm with vibrant blue skies. The evenings can still be cool during this month so you should still consider bringing a light jacket.
Tourism tends to pick up as families and visitors come to the islands for their spring break vacations and local families rent out hotels and beach homes for stay-cations. I believe most schools, public and private, will usually hold their week-long spring breaks sometime during this month, so plan accordingly because ticket sales and hotel prices may increase with the higher demand.
March Highlights
The Humpback whale-watching season will be coming to an end from March through April. It still might be worth it to go out on a whale-watching tour as migration timetables vary each year.
April
Visiting Hawaii in April
Temperatures start heading into the mid-70s and 80s throughout the month of April; the beaches can still be cool, but on sunny days it will feel refreshing. In March and April, a lot of flowers are in full bloom so if you have flower or pollen allergies you may want to bring your antihistamine blockers.
April Highlights
While April is still technically part of whale-watching season, it's really the tail end so it's highly possible that if you go on whale-watching tours, you won't see anything. At the same time, it's a good idea to ask the boat company because migration patterns shift a little from year to year and sometimes, a lot of whales will still be in the area. If anything, the weather is usually gorgeous this time of year so put on some sunscreen and enjoy the boat ride, even if you don't get to see any whales. Otherwise, take advantage of the lull in visitors and book a few extra activities or spend a day on the beach without the big crowds.
May
Visiting Hawaii in May
I think May is a great time to visit Hawaii. It's a perfect balance of light crowds, beautiful weather, and lower costs.  It's warm and sunny but not "glaring sun" hot like in the summer – Hawaii is located right around the equinox, so in the middle of summer, the sun is directly overhead (and it sometimes feels like it's cooking your skin!) Please note: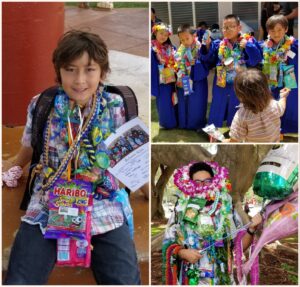 You'll still need to use sunscreen because the Hawaii sun can burn no matter the season, but at least you won't feel like you're cooking! Because there are fewer visitors coming to the islands, there may be some better deals on tour activities. May is technically the start of hurricane season – which lasts through November – but there generally isn't a lot of hurricane activity in May (at least from what we hear on the news).
May Highlights
If you happen to be visiting around the 1st of May, Hawaii is big on May Day and there will often be events in Waikiki and downtown Honolulu – usually near Iolani Palace or the State Capitol building — for May Day. May is also graduation season for everything from preschool to elementary school, high school, and universities so there may be some congestion around schools, larger venues, hotels, and restaurants on graduation days. We love celebrating all kinds of graduations so don't be surprised if you see all the graduates – even preschool "graduates" – sporting big balloons and lots of leis. At the end of the month, on Memorial Day, there's a big floating lantern festival at Ala Moana Beach Park on Oahu. It's a beautiful event so if you happen to be on Oahu, it might be worth checking out. People write the names of loved ones on paper lanterns and float them out at Ala Moana Beach; there's a net to catch them before they float out to sea and they reuse the lanterns each year.
June
Visiting Hawaii in June
We think June is a great time to visit Hawaii; the weather is usually great – sunny and perfectly warm – and since the summer break is just starting, it's not as crowded as July and August. If there was a 5th best month, it would be June; it didn't make the top four because, well, we had to make a cut-off somewhere plus, there usually aren't as many deals because tourism is expected to increase as the summer season begins. In June, most schools are off for the summer, so you'll notice a definite uptick in visitors and returnees as families start taking their summer vacations and Hawaii college students return home. Just a note, that from May to November is Hawaii's hurricane season, however, the weather usually isn't affected very much in June.
June Highlights
As the weather warms up, the water warms up as well; this makes June a great time to do ocean activities like snorkeling, scuba diving, and more. Also, even though it's sunny, it's still cooler in the shade, so look for hiking trails that take you through Hawaii's gorgeous rainforests, all the rain from the winter will make everything green and vibrant but it's usually less humid than July, August, and September.
July
Visiting Hawaii in July
So, is visiting in July a bad choice?  No, it's still good, really good – the weather is warm, but not scorching hot or terribly humid, plus we have trade winds! In fact, it's probably because it's so nice that Hawaii gets so much tourist traffic during July and August. By July, summer break is in full swing, and between local events like high school graduation parties, destination events like tropical weddings and honeymoons, and lots of tourists enjoying their vacations, Hawaii will be quite busy. Even local out-of-the-way spots will not seem so private and secluded during this time. Expect Waikiki to be bustling and lively – while it tends to be busy all year long, in July you will feel the energetic energy. In any case, I would expect crowds, long lines and wait times for restaurants, and increased traffic. Toward the end of July, hurricane watches and warnings may start popping up in the news. While Hawaii is rarely hit by a hurricane, we still may sometimes experience severe rainfall, flash floods, and storms if the hurricanes get too close to the islands. In general, we usually don't experience much of it in July but it's good to be aware as sometimes it can impact tour operations, flights in and out of Hawaii, and local events. Hurricane season runs from May to November.
July Highlights
Hawaii often has fireworks and other activities for the 4th of July – locations and events may vary but if you're on Oahu, I would check Ala Moana/Ala Moana Shopping Center (Honolulu), Kailua (windward side), Pearl Harbor, or the North Shore for possible events. There are also a lot of nighttime outdoor events in Waikiki on a daily or weekly basis.
August
Visiting Hawaii in August
August is another busy summer month in Hawaii. The weather is like July, just a tiny bit hotter. In terms of weather and crowds, late July and early August will blend into each other. But, by mid-August, you may notice some things calming down. I think one of the big reasons is that many elementary schools start in early August so by the end of July locals with families are going back into school mode with many younger children in the classroom by the first full week in August. Middle school and high school students will usually start by mid-August, so if you're on that final vacation before Labor Day, you'll mostly find yourself with like-minded tourists trying to catch that last bit of tropical summer before heading back to reality.  That doesn't mean that it won't be crowded, it just means that most people you see in Waikiki and at other locations are probably tourists too! I would still recommend making reservations in advance for activities and restaurants as August is still the peak tourist season. Also, please note that August and September are also often the months with the most hurricane activity so even though Hawaii isn't often hit with a full hurricane (the last one was in September 1992), we can still be impacted by hurricane-related storms and weather changes which can affect tour operations, flights in and out of Hawaii, and local events. Hurricane season runs from May to November.
August Highlights
Waikiki and the Honolulu area often have a lot of events – both in the daytime and in the evenings – in August so make sure to check them out if you're there; these may include musical performances, hula/dance shows, markets, craft fairs, and more.
September
Visiting Hawaii in September
While many places are shifting to fall weather, in Hawaii, September still feels like summer, like real summer – I don't even think the temperatures change much between August and September. That's why we picked September as one of the best months to travel to Hawaii. The weather is warm, the water is warm, and the ocean is quite calm too – it makes it a great time for snorkeling, scuba diving, and more. What's nice is because the kids are back at school and universities are back in session, it doesn't feel as crowded as it was in July and August. In September and October, you may see lower pricing for flights, hotels, and packages, so be on the lookout for off-season deals. Just remember that September is one of the months with the most hurricane activity so even though Hawaii isn't often hit with a full hurricane (the last one was in September 1992), we can still be impacted by hurricane-related storms and weather changes which can affect tour operations, flights in and out of Hawaii, and local events. Hurricane season runs from May to November.
September Highlights
The different islands host a variety of festivals during the month of September – I wouldn't plan my trip around any of these festivals (but you can if you want!), but they'd be fun to check out if you're in the area during your visit. Most of the festivals last only a day or two so once plan your vacation dates and activities, check and see if there's anything going on while you're there.
October
Visiting Hawaii in October
October is one of my "top months" to visit Hawaii. It's kind of the last calm month before the holiday rush starts plus it's still warm and sunny. Look for deals on flights and hotels; it's typically not as crowded in September and October, so it's usually easier to book reservations and there are fewer crowds. The only spike in hotel bookings – if at all – is usually around the weekend of Columbus Day/Indigenous Peoples' Day – many schools have Fall Break around that time (though not necessarily tied to the day) and I often saw families use the break for staycations at hotels in Waikiki or Ko'Olina during that time. Also, it's good to keep in mind that hurricane season – from May to November – is still in effect, so, while Hawaii isn't often hit with a full hurricane (the last one was in September 1992), we can still be impacted by hurricane-related storms and weather changes which can affect tour operations, flights in and out of Hawaii, and local events.
October Highlights
Like many other places around the US, October is full of activities related to Halloween and the fall harvest. On Oahu, Waimanalo Country Farm has a pumpkin patch and a gorgeous sunflower garden, along with other activities. You can even pick your own pumpkin if you want…or you can just take pictures with the gorgeous Koolau mountains as the backdrop. Each island hosts different kinds of activities, so be sure to check it out once you know which island(s) you'll be visiting.
November
Visiting Hawaii in November
November starts getting into the rainy season, although the weather can still be warm and sunny most days. Most islands have a wetter side and drier side so it's very likely that you'll find nice weather on any island you visit. Hurricane season ends this month and while Hawaii isn't often hit with a full hurricane (the last one was in September 1992), we can still be impacted by hurricane-related storms and weather changes which can affect tour operations, flights in and out of Hawaii, and local events. If you're planning on a shorter 3–4-day vacation, it would be a good idea to have contingency plans in case the weather is rainy.
November Highlights
The waves start picking up on the North Shore of Oahu – although it can be dangerous for regular swimmers and beachgoers, the large winter waves and surfing competitions that follow are amazing to watch. Surf competitions vary from year to year to do the changes in surfing conditions, check out the local surf reports once you arrive. Every year around Thanksgiving, Oahu hosts a Waikiki Parade to commemorate the attack on Pearl Harbor. The parade takes place along the main strip of Waikiki on Kalakaua Avenue and ends at Kapiolani Park where there are often activities and events taking place. Toward the end of November, craft fairs for the holidays will also start popping up – dates and locations are usually released a few months prior to each event.
December
Visiting Hawaii in December
December is an exciting month to be in Hawaii with the holiday season approaching; for the same reason, tourism in December will start to pick up as schools start their winter breaks and university classes end. Expect prices to increase with the demand as it gets closer to Christmas and New Year's. When my wife was in college on the mainland, her dad would always lament that the airline prices almost doubled right when her finals ended, and it was time for her to fly back home. If you want to get better rates and cheaper flights, consider taking a vacation in the first half of December, by the 20th of the month, the prices spike up and the islands become noticeably crowded. But if you're like my wife, and need to visit for the holiday season, just expect larger crowds, and more traffic, and make sure to make all your reservations in advance. December weather is usually sunny and warm compared to many states in the US mainland, but you may see some locals sporting fleece jackets and sweatshirts! It's their winter, after all, and the early mornings or late nights may drop to the mid-60s (with a breeze) so you might want to bring a hoodie or jacket.
December Highlights
December kicks off the whale watching season as our favorite humpback whales migrate from Alaska to Hawaii to give birth in our warm Hawaiian waters. The best times to see them are usually between January through March, but in the northern islands like Oahu, you'll start seeing them in December. Even if you are on a coastal hike going up a mountain or facing the ocean, check out the water, and you may see some whales breaching.  In addition to whales, check out the local calendars for any holiday parades taking place near you. Many towns across the islands will host some kind of holiday parade in December. If you're on Oahu, check out Honolulu City Lights in downtown Honolulu – there are a lot of activities near Honolulu Hale and trolleys will take people on tours of the downtown buildings decorated in lights set up for the holidays!
Conclusion
So that's it! We hope you found some of this information helpful as you decide when to visit the Hawaiian Islands. What we can tell you is that unless you are looking for a very specific activity like whale-watching, a surfing competition, or a festival, any month will be a good time to enjoy your vacation in Hawaii. Aloha!