Oahu is called the gathering place of Hawaii.  You will see the hustle and bustle of the world-famous Waikiki beach right next to a dynamic city of Honolulu downtown, and you drive out a little while to experience the rural tropical Hawaii that you are looking for.  In Oahu, you'll find an active and attraction that you are looking for on your trip.  Beach, Mountain, Horseback Riding, Zip Lining, from the North Shore to the Kaena Point on the west end of the island to the Waikiki beach, everyone will find something to fall in love with.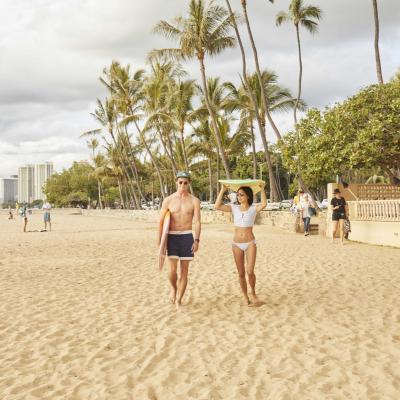 Oahu Beaches
From world-famous Waikiki to the North Shore's legendary surf spots and the relaxed atmosphere of Makaha Beach, there are beaches for every type of traveler on Oahu.
Oahu Land Activities
From hiking and biking to museums and golf, there's lots to do during your visit.
Oahu Water Activities
Legendary surfing, amazing snorkeling, boat trips and more.
Skydiving, parasailing, helicopter tours and more.

Get a Free
State of Hawaii
Official Visitors' Guide
Let us know your email address where we can send the electronic version of Hawaii Official Visitors' Guide to:
Oahu Attractions and Activities