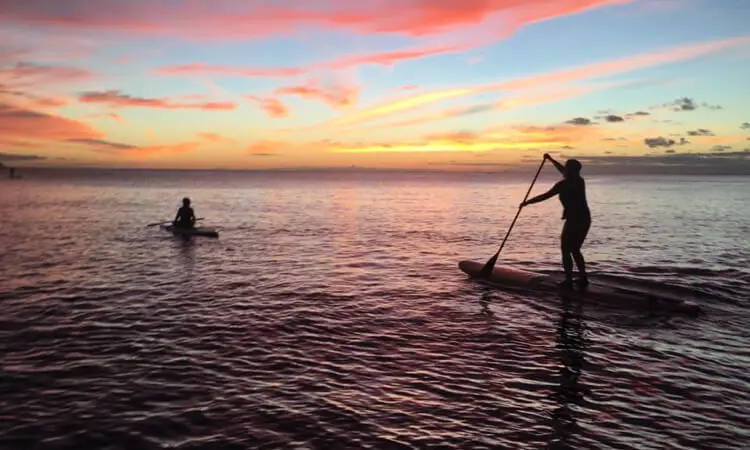 Rainbow Watersports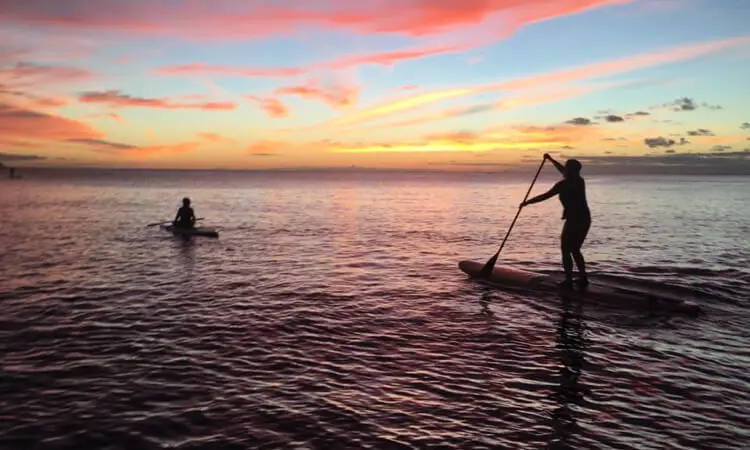 Welcome to Rainbow Watersports Adventures stand up paddle lessons! Whether it's group lessons, private lessons, events, camps, or parties, you are in for top-notch instruction and an awesome adventure from the best stand up paddle school ever … even if it's your FIRST TIME ever! Learn to stand up paddle in a safe and controlled environment with experienced and qualified stand-up paddle instructors, quality equipment, and the most awesome locations on the island.
Address
Haleiwa Beach Park, Haleiwa, HI
---
Hours of Operation
Monday: 8:00am–8:00pm
Tuesday: 8:00am–8:00pm
Wednesday: 8:00am–8:00pm
Thursday: 8:00am–8:00pm
Friday: 8:00am–8:00pm
Saturday: 8:00am–8:00pm
Sunday: CLOSED
Shared Group Lesson
Join a shared open group lesson for 2 hours of instruction and fun on the water! With an open group lesson you'll make friends with other new paddlers and have a blast. Shared open group lessons have up to 10 paddlers and are open for anyone to join.
Sea turtles, tropical fish and a lush tropical landscape set the stage for your stand up paddle lesson. Our experienced staff will introduce you to the sport of stand up paddling. First, you'll learn about the proper use and care of the equipment along with correct paddling and turning techniques. Then, we're off on the water. With our instruction you'll be up, paddling and totally stoked on your very first lesson!
Tuesday, Thursday, & Saturday at 11am
---
– SUP Board
– Paddle
– Qualified instructor Bring with you:
– Swimsuits
– Sunscreen
– Smiles
Private Stand Up Paddle Lesson
The most popular choice! There's no better way to learn than with a lesson tailored just for you. Accelerate your learning curve and have a great time with your friends and family and your own private instructor. Flexible lesson times available from 8 am to Sunset. Let us know what works best for you! Great for all ages and abilities: Beginner, Intermediate, or Advanced. Reservations are required. Be on the lookout for sea turtles and tropical fish while cruising through our island paradise.
Display price is per person for a group lesson of 8 or more people. You may also take a group lesson for 6–7 for $79 per person, for 4–5 for $89 per person, for 2–3 for $99 per person, or a private lesson for $119.
---
– Suitable for all levels
– SUP Board
– Paddle
– Qualified instructor
– Photos
Bring with you:
– Swimsuits
– Sunscreen
– Smiles
FREE PHOTOS are included with your Private Lesson so you can keep and share this amazing experience forever. We'll give you an SD card after your lesson with all your photos.
Coastal Eco Adventure
For the active and adventurous! Hands down – this is one of the most spectacular activities on Oahu. Our Coastal Eco-Adventure is sure to leave you in awe. Paddle with the wind at your back over the beautiful coral reef with possible sightings of dolphins, whales, sea turtles, and mermaids.
Take in the breathtaking beauty of the island from the open ocean . . . a point of view that few get to enjoy. We'll travel along the coastline and pause on a gorgeous tropical beach for swimming, snorkeling, and a light lunch. Available conditions permitting.
---
– Suitable for all levels
– SUP Board
– Paddle
– Qualified instructor
– Light lunch
– Snorkel gear
– Water photos
What to bring:
– Swimsuit
– Sunscreen
– Smiles
This is a 3–4 hour fun and physically active adventure. How do I know if I'm fit enough for this activity? This activity requires endurance. Do you consider yourself active, or do you huff and puff along? Would you jump on the chance to take a jog around the block or sit on the couch with a remote? If you love to move and groove, this is the adventure for you.
Sunset Twilight Paddle
Amazing sunset & magical night! This is where the PARTY is at! Paddling on the water as the sun sets is an unforgettable experience … and it only gets better after that! As the sun fades into the horizon, watch your board create a halo of light that lights up the ocean floor. You may even see turtles passing underneath!
---
– SUP Board
– Paddle
– Qualified instructor
– Board lights
– An amazing experience!
What to bring:
– Swimsuit
– Smiles
Paddleboard Rentals
Rainbow Watersports Adventures rents stand up paddleboards in Haleiwa on the North Shore of Oahu! We have quality boards and paddles of all sizes so you'll have the perfect board for your ability and the water conditions.
First time paddling? For the safety and success of our paddlers, beginners are required to take our 20-minute orientation prior to they are rental. This orientation is $20 for the whole group. We always encourage our paddlers to take the full 2-hour lesson, which will give you the skills to become confident paddlers, and guarantee you a great time on the water. However, if you have limited time or a tight budget, renting may be the right option for you.
Display price is for a 1-hour rental. You may rent a board for 1.5 hours, which gives you enough time to travel up the river and across the bay (this is by far our most popular option). You may also book a 2-hour rental ($40) and an all-day rental from 8 am till sunset ($60).
---
– SUP Board
– Paddle
– Leash
For the safety of our paddlers and others in the surf breaks, we do not rent our equipment for wave riding.