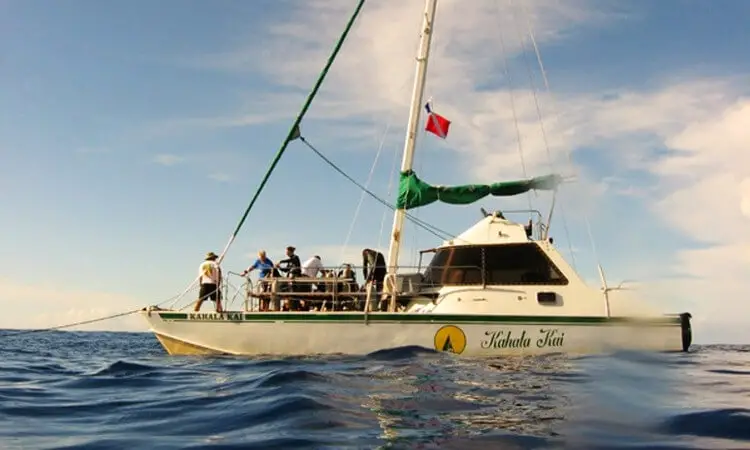 Oahu Catamaran
Welcome to Oahu Catamarans Waikiki Sailing, Oahu's favorite sailing tour! Oahu's exclusive sailing catamaran tours operate the beautiful Kahala Kai custom sailing catamaran. Nestled between downtown Honolulu and Waikiki, Oahu Catamaran tours is your one and only local sailing charter adventure in Waikiki devoted to sailing enthusiasts who want absolute comfort while sailing the famous Waikiki shore.
Address
1025 Ala Moana Blvd. Slip A 1,
Honolulu, HI
---
Snorkel Cruise
Oahu Catamaran sailing and snorkeling tour sails Oahu daily offering the best in picturesque views of downtown Honolulu and right up to the front base of Diamond Head – Oahu's most iconic extinct volcano. Forget about the competition using tiny hard-to-maneuver and relax snorkeling boats. The Kahala Kai Oahu sailing and snorkeling catamaran was designed and made in Hawaii for the waters of Hawaii.
Departing Kewalo Boat Basin we will take you on a scenic catamaran sail down the coast of Oahu's southern shores. With snorkeling gear provided let us show you the coolest Oahu snorkeling locations. Not too deep and completely safe for children, Oahu snorkeling locations have clear warm inviting waters with our easy step down ladder you can slide into a dream come true.
2 hours
---
What's Included
– All snorkeling gear provided
– Swim and snorkel with turtles and fish
– Have fun snorkeling in clear, warm, inviting waters
– With our easy step down ladder, you can slide into a dream come true
– Explore Diamond Head, Oahu's most iconic extinct volcano
– Take in breathtaking views of downtown Honolulu from the water