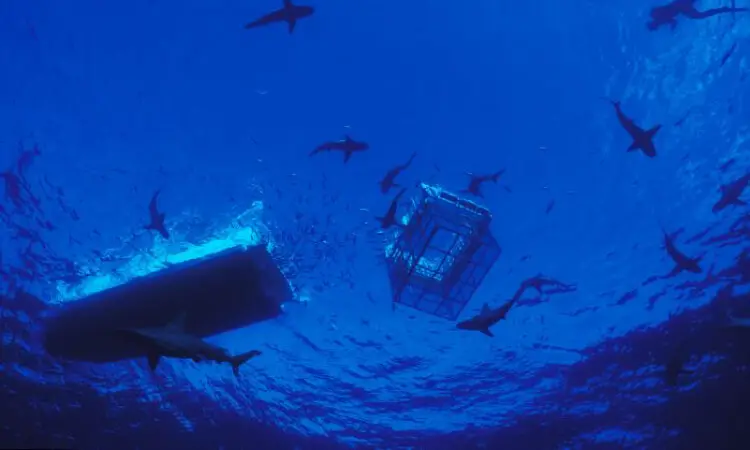 Hawaii Shark Encounters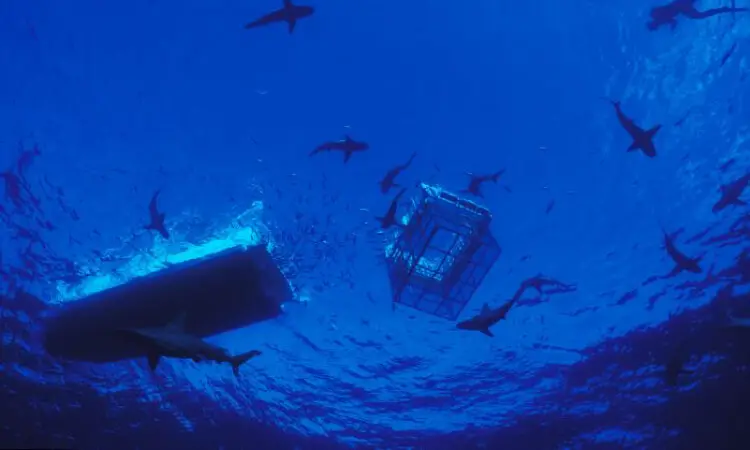 At Hawaii Shark Encounters, we are more than another eco tour: we are on a mission to educate each of our guests about the current state of the ocean's ecosystem, the sharks' plight and how their decimation by humans is affecting us all in the long term. We offer you a semi-private experience (max 12 people) like no other.
You'll see sharks as if they are right in your face with our plexiglass windows. You'll walk away with a knowledge and insight which will enable you to engage in conversations about sharks with your friends and colleagues. Let us bring you out of the "Jaws" movie mindset and into reality supported by facts. Sharks are awesome magnificent creatures, and this extraordinary encounter should be on everyone's bucket list.
Address
Haleiwa Boat Harbor, 66-105 Haleiwa Rd.,
Haleiwa, HI
---
Shark Cage Diving
At Hawaii Shark Encounters, we pride ourselves in offering an eco-friendly subsurface experience that is safe and inspiring for everyone from seasoned conservationists to budding citizen scientists. We hope you'll join us on a trip three miles off the gorgeous North Shore in Oahu, Hawaii for a once-in-a-lifetime experience of some of the ocean's most fascinating and elegant creatures: sharks!
Daily at 9:30am and 1:30pm
Our Shark Vessel "Kainani" departs Haleiwa Small Boat Harbor on Oahu's North Shore daily. We motor out to international waters, over 3 miles off shore to the shark grounds. For the next hour and a half we share the excitement and our knowledge of the sharks of the famous North Shore.
Within minutes the fun begins. Upon arrival to the shark grounds the first guests get in the cage. The sharks almost never fail to pay us a visit. In fact, their presence is so consistent that if you don't see a shark, you don't pay! Once in the cage, the big Poly Glass windows are nearly transparent, so when that 10-foot-long Galapagos shark presses his nose against the glass, it looks like he is coming right on in. (Not to worry, though, he's not getting in.)
In addition to the Galapagos sharks, Sandbar sharks are our other common visitors. Both of these sharks are very curious, completely unafraid and come very close to the shark cage. Sometimes we see as many as 30!
There is absolutely no diving experience required for this veritable shark diving fest. Because our cage hovers just below the surface of the water, you can relax and experience the ocean using a mask and snorkel. No scuba gear required! From underwater pros to people who have never even been in the ocean, our adventure is for everyone!
---
What's Included
Observe Galapagos and Sandbar sharks in their natural environment
Floating cage that keeps humans and sharks safely separated from each other
Roundtrip travel out into the open ocean
Snorkel equipment included
Honolulu and Waikiki hotel pick-up available at additional charge
---
Rates
Children (Aged 5–12): reduced
Boat riders: reduced
---
Availability
Daily
---
Meeting Location
Haleiwa Boat Harbor, 66-105 Haleiwa Road, Haleiwa, HI, 96712
---
Additional Information
Children aged 5+
All divers welcome
Bring with you: towel, sunscreen, and sweater or windbreaker. Feel free to bring your own drinks/snacks.
You must check in at least 30 minutes prior to your scheduled tour.
You may be tempted to save the best for last (and this will be the best) but please don't. Sometimes we have to reschedule due to weather, so try and leave some room to be flexible.
Honolulu and Waikiki hotel pick-up available at additional charge of $50pp and has a four person minimum per trip
The Kainani is a 32-foot Radon built on the Big Island of Hawaii. Powered by a 450 HP Cummins diesel, the Kainani is a robust vessel with a top speed of over 20 Knots. Creature comforts include hot water showers.
The hardest part of the tour is the entry into the cage. It will be pulled close and tightly attached to the side of the boat to make stepping over the side easy. You must be strong enough to climb on the ladder and into the cage, and to pull your own body weight up the ladder.
We are always mindful that we are visiting these sharks' natural home and make every effort to create a low-impact encounter that is safe for both our guests and the sharks. We don't travel over reefs or drop anchors that could potentially cause damage to the environment. Once we arrive at our destination, we shut off our engines. The sharks you'll see are never baited or frightened into view. They're just hanging out in their home. Because sharks are naturally very curious, they'll come over to the cage to get a better look at you. The design of the cage ensures that we all maintain a respectful distance.
If you don't see a shark, you don't pay! That's our money back guarentee
Sometimes we have to reschedule tours because of weather, but if you're flexible, we promise to get you in on another day.
No cancellations or changes within 48 hours of scheduled tour. You must check in at least 30 minutes prior to your scheduled tour. All reservations are subject to non-refundable cancellation if you have not checked in at least 15 minutes prior to your scheduled tour.